As the middle of 2023 grows closer, we wanted to take the opportunity to feature some of the amazing projects we were able to work on last year. Our industry is fortunate because we get to come face-to-face with history and help preserve or restore the beauty that has been lost for centuries. From Fortune 500 companies to universities and hotels – we have worked on some really incredible projects. Here are a couple of our favorites.
Custom Carved Tracery Window at Fort Washington Collegiate Church in Manhattan
For Washington Collegiate Church is part of five ministries across Manhattan, New York. With its long-standing history going back to 1907, this church building is one of the oldest Protestant congregations on the continent. Petrillo Stone hand-carved a tracery window out of Indiana Limestone and paired it with beautiful stained glass. Learn more about this job and the interesting timeline of the church.
Accenting the Palace Hotel with Historic Brownstone Carvings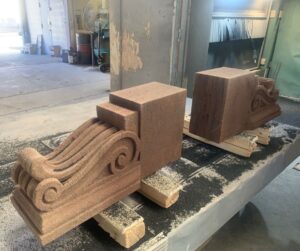 The dust hasn't even settled on one of our absolute favorite projects of 2022. The Palace Hotel in New York City has an incredible past – and so does the material we were commissioned to carve – brownstone. A popular stone for many custom works and architecture back in the 1700s, brownstone was even used to carve dates and names on headstones and used in old Quaker mills all across Pennsylvania and the Northeast. In the last 300 years, however, brownstone has faded into the history books. It was our pleasure to bring it back to life in one of the most beautiful buildings in all of New York City! Check out the project.
Why We Loved These Projects
Our team at Petrillo Stone loves history and preserving the nature of historical architecture like the Collegiate Church in Manhattan and the Palace Hotel in NYC. Whether we are called to preserve what was already there or commissioned to create a custom-carved work of art, the ability to bring history back to life is as exciting as if we jumped into a time machine and saw it created for the first time.
Keep History Alive with Custom Stonework
If you are a business owner, head of a company or university, or church leader looking to preserve or add custom stonework to your building, contact us at Petrillo Stone Corporation. We would be honored to work with you on a project.